Japan Travel Guide 11D10N (Fukuoka, Yufuin, Kumamoto, Aso, Kurokawa, Kurashiki, Okayama, Hakone, Tokyo)
February 15, 2020
This is an
11 Days 10 Nights Travel Guide to Japan
, focusing on mainly the Kyushu region, as well as Okayama, Kanagawa, and Tokyo Prefecture 🇯🇵
⛩11D10N Japan Travel Guide 🎎
• Day 1 to 3: Fukuoka
• Day 4: Yufuin
• Day 5: Kumamoto
• Day 6: Day trip from Kumamoto to Aso and Kurokawa
• Day 7: Kurashiki
• Day 8: Day trip from Kurashiki to Okayama
• Day 9: Travel from Kumamoto to Tokyo
• Day 10: Day trip to Hakone
• Day 11: Tokyo
Jon and I travelled to Japan in November 2019 (autumn to winter). We enjoyed clear weather on all days of our trip, really blessed! As both of us have been to Tokyo before, we decided to spend majority of our trip in Kyushu region, where we spent time in Fukuoka, Yufuin, Kumamoto, Aso, and Kurokawa.
This is the first time we did a multi-city long holiday that isn't a road trip. Compared to driving around in a car, it is definitely more tiring to drag the luggages around on trains and buses. Regardless, we are thankful that everything went pretty smoothly and we somehow managed to catch all the right shinkansen that brought us to our destinations! 🥳We bought the JR Pass as it is more worth it if you are travelling to multiple cities in different prefectures. Tip: You can book your ticket and seats in advance for the shinkansen (bullet trains), so do that upon arrival!
Day 1: Arrive in Fukuoka
Accommodation: Airbnb
We took an overnight flight and arrived in Fukuoka in the morning. From the airport, we bought bus tickets that took us straight to Hakata station where our Airbnb is located nearby (very convenient, and about the same price as taking the train).
As it was still pretty early, we couldn't check in yet. Thus, we went for lunch at a popular
Unagi Don store, Yoshizuka Unagi (博多名代吉塚うなぎ屋)
. We spent time shopping at
Canal City Hakata
, a large shopping and entertainment complex.
After checking in to our Airbnb, we walked back to Hakata station for more food and shopping. There's so many things to do around the station, as there are many shops close by. Be sure to go to the
Depachika (underground of department stores)
as this is where you can sample lots of food and buy them back as
omiyage (souvenirs).
Fukuoka is the birth place of Tonkotsu Ramen, so we tried one of the famous ones called
Shin Shin
for dinner. It was pretty hard to find, as the directions on the map and website weren't clear. But it's so worth the search (and the queue!).
Food We Ate:
• Unagi Don (Eel) @ Yoshizuka Unagi 博多名代吉塚うなぎ屋
• Fried Chicken @ Lawson (even though it's convenience store food, it's good!)
• Go for food sampling (lots of desserts and some savory food) @ Hakata Station Department Stores Basement
• Ramen & Gyoza @ Shin Shin Hakata Ramen 博多ラーメン シンシン
• Cinnamon Bun @ Cinnabon Hakata Station

Place to Visit:
• Canal City Hakata
• Explore the shops around Hakata Station
Day 2: Kimono Rental in Fukuoka
Accommodation: Airbnb - (A703) 10 min from Hakata Station
On our second day in Fukuoka, we rented Kimono from
Vasara Kimono Rental
and explored the city! We visited
Joten-ji Temple (承天寺)
to take some pics (because Fukuoka city doesn't offer much
photo-opportunities
with the typical traditional Japanese backdrop).
Lunch was none other than
Ichiran Ramen
- a MUST-TRY especially when visiting Fukuoka. We prefer Ichiran over the Shin Shin Ramen we had the night before, as we could customise the noodle texture (well-done or al-dente) and even the broth's richness.
We basically spent the rest of our day eating and taking photos in our kimono. I think we ate the most food on this day as it was our first
full
day in Japan and we wanted to eat
everything
.
Food to Eat:
• Ichiran Ramen 一蘭 ラーメン
• Custard Cake @ JOKIYA 博多蒸氣屋
• Desserts (mochi, montblanc and more) @ Hakata Suzukake Honten 鈴懸 本店
• Hot Dog Bun @ Cafe de Crie
• Belgian Waffle @ Manneken
• Croissant @ Il Forno del Mignonミニョン

Place to Visit:
• Joten-ji Temple (承天寺)
Day 3: Fukuoka to Yufuin
Accommodation: Yufuin Iyotomi (Ryokan)
We travelled to
Yufuin
from Fukuoka by train. Yufuin is a popular hot spring resort with many traditional and modern ryokans. There are many charming stores along the streets of Yufuin, and you can explore the place freely without planning an itinerary.
The highlight from this visit is definitely our
ryokan
with a private onsen, as well as a multi-course meal prepared by the ryokan chefs. They even prepared a breakfast buffet for the next day. Super healthy and tasty.
Food We Ate:
• Matcha Gelato @ Telato
• Croquettes @ Yufuin Kinsho Croquettes
• Gyu (beef) Mabushi @ Yufu Mabushi Shin 由布まぶし心 - very popular! be prepared to queue. Tip: Take a queue number first and explore Yufuin while waiting for your turn
• Hot Dog Bun @ Cafe de Crie
• Belgian Waffle @ Manneken
• Croissant @ Il Forno del Mignonミニョン

Place to Visit:
• Yufuin Floral Village
• Lake Kinrin
Day 4: Yufuin to Kumamoto
Accommodation: Airbnb
We took the Shinkansen from Yufuin to Kumamoto. The 3 hour ride passed by really quickly, and before we knew it, we had arrived and checked into our Airbnb that was conveniently located near the station.
One of the things I always look out for when booking an Airbnb is whether or not it offers a washer and dryer, because being able to do laundry during the trip means bringing less clothes - pack light with more space for shopping! 😉Thankfully, we were able to do our laundry at this Airbnb, and the timing couldn't be more perfect (mid-way through our trip).
We had amazing Tonkatsu from
Katsuretsu Tei Shinshigai (勝烈亭 新市街本店)
-
MUST TRY
when you are in Kumamoto! The pork is extremely tender and juicy. If you watch our travel vlog (around 6min 30 sec), you can hear Jon raving about the pork 😂😋To quote him,
"Wah, the pork got standard man!"
(pardon the
Singlish
haha).
After lunch, we headed to
Suizenji-jojuen (水前寺成趣園)
. There is a small entrance fee to enter the gardens. We spent time feeding the fish and just enjoying the scenery. Right before the garden, there is an old-school shop selling
Ikinari Dango
(a Japanese steamed confectionery made with yellow sweet potato and wrapped in mochi). It is famous in Kumamoto, so we decided to give it a try despite being very full from our lunch.
We ended the day with sushi at a restaurant at Kumamoto station. Jon tried Basashi 😨
Food We Ate:
• Tonkatsu @ Katsuretsu Tei Shinshigai 勝烈亭 新市街本店
• Ikinari Dango @ Hiyashi no Ikinari Dango はやしのいきなり団子
• Sushi @ Amakusa HERO-sushi Ushibukamaru 天草HERO鮨 牛深丸

Place to Visit:
• Suizenji-jojuen 水前寺成趣園
Day 5: Day trip to Aso and Kurokawa
From Kumomoto, you can take a day trip to Aso and Kurokawa by booking a car rental. The drive to Aso is slightly more than an hour. Along the way, be sure to take the Aso Milk Road Route, which is a scenic drive. You can also stop by the Daikanbo Lookout for a great view.
Aso is famous for
Mount Aso (阿蘇山, Asosan)
, which is a large active volcano in the center of Kyushu. On the day we visited, there was a warning, so we could not get close to the crater. On good days, you can go to the Nakadake Crater.
In Aso, do visit the
Aso Mizuki Meguri
- a charming old street with quirky shops. Unfortunately, many shops were closed on the day we visited (Wednesday). Despite that, we still enjoyed walking down this photogenic street.
If you have time, you can drive further down to Kurokawa from Aso.
Kurokawa
is another popular hot spring town. There are many options you can choose from, and you can even purchase an
onsen hopping pass
there.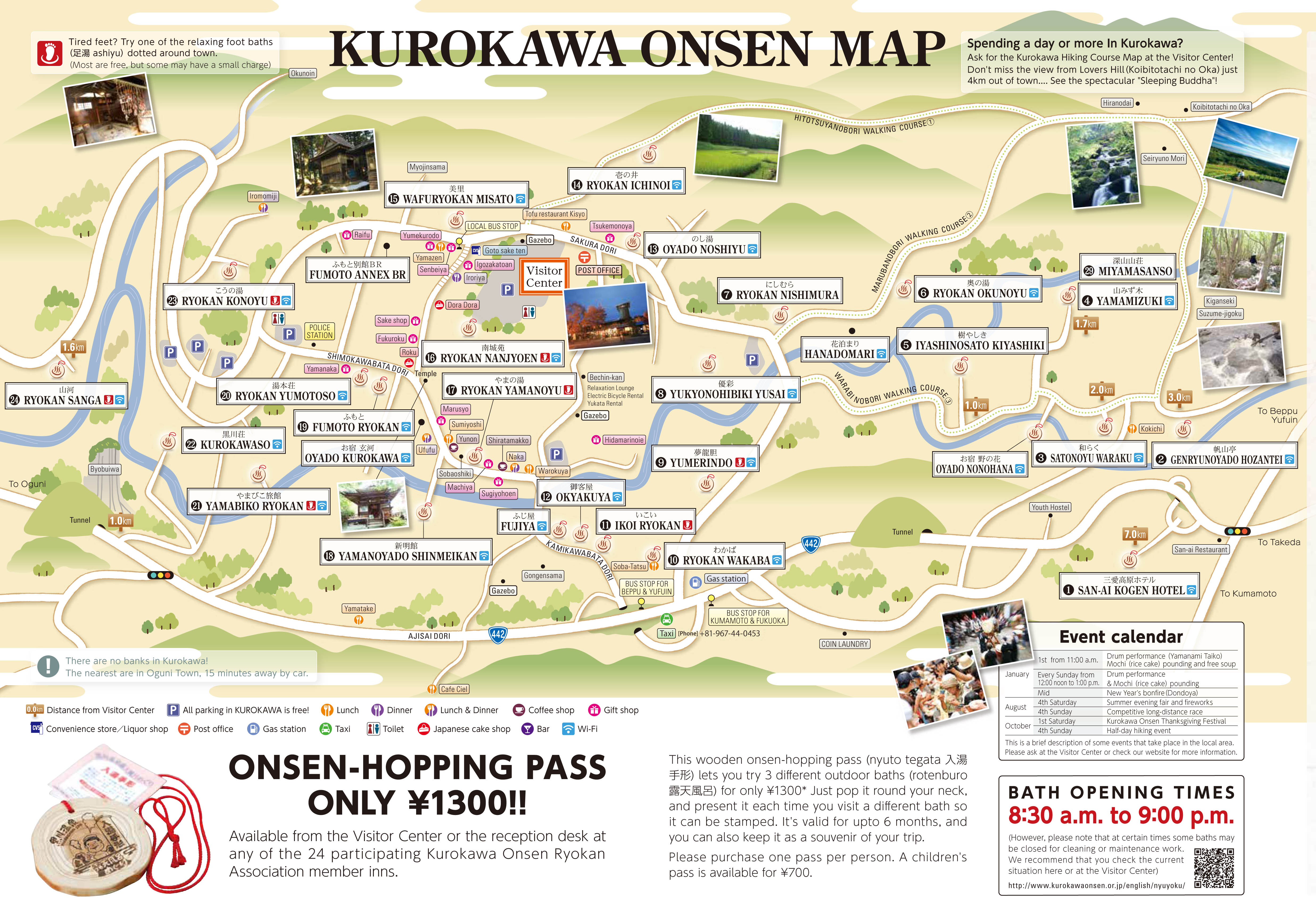 We had Katsu Curry for lunch at Warokuya わろく屋, and chose the set with 3 types of curry. From their menu: "1. Our "standard curry", which is a specialty of Kumamoto's unique Aso red beef stewed carefully. 2. "White curry" using local small country jersey milk & Higo red chicken. 3. "Kuro curry", which is made by adding "Kuromoto Aso" high quality pork pig to "Standard curry".
Then, we stopped by a cute cafe and had Shirotama Dango for desserts.
We headed back towards Kumamoto, stopping by for Aso Milk Soft Serve Ice Cream at Cafe&Shop GRASS LAND in Aso. Then, we had cheap sushi (100 yen per plate only!) for dinner at Kura Sushi Kumamoto (無添くら寿司).
Food We Ate:
• Katsu Curry @ Warokuya わろく屋
• Shirotama Dango @ Shirotamako Kurokawa 甘味茶屋 白玉っ子
• Aso Milk Soft Serve Ice Cream @ Cafe&Shop GRASS LAND in Aso
• Conveyer Belt Sushi @ Kura Sushi Kumamoto 無添くら寿司
Place to Visit:
• Aso Milk Road
Route
• Daikanbo Lookout
• Aso Mizuki Meguri
• Kurokawa Onsen (You can get a onsen hopping pass to visit multiple onsen, or pay to visit each onsen).
Day 6: Kumamoto to Kurashiki
Accommodation: APA Hotel Kurashiki-Ekimae
On Day 6, we left the Kyushu region and journeyed towards Okayama prefecture, staying in a historic city, Kurashiki (倉敷市). Kurashiki is famous for the
Kurashiki Bikan Historical Quarter
that features a picturesque canal and weeping willow trees.
For some afternoon tea & dessert, do visit the
Yuurin-an Guesthouse & Cafe
. They are famous for the peach juice and happy pudding. The peach juice was served in a uniquely designed peach-shaped glass. It is pretty sweet though, so I recommend sharing it with someone as it might be hard to finish a full glass.
There are many shops to buy souvenir and food along the historical quarter. Some of the things we bought were
mochi
and
mura suzume
(a pancake-like specialty food item from Kurashiki).
For dinner, we ate in Ario mall that is located beside Kurashiki station. There is an Italian restaurant, called
Pia Sapido
, that offers free-flow of bread when you order a main course! 🍝🥖 If you have time after dinner, you can also shop at the
Mitsui Outlet Park Kurashiki
that's located nearby.
Food We Ate:
• Peach Juice & Happy Pudding @ Yuurin-an Guesthouse & Cafe ゲストハウス有鄰庵
• Mura Suzume @ kikkodo 橘香堂
• Beef Croquette @ Kinsho Croquettes 金賞コロッケ
• Italian Cuisine @ Pia Sapido ピアサピド

Place to Visit:
• Kurashiki Bikan Historical Quarter
• Ario Kurashiki
• Mitsui Outlet Park Kurashiki
Day 7: Day trip to Okayama from Kurashiki
From Kurashiki, you can take a day trip to Okayama! Actually, many people do it the other way round, which is to take a day trip from Okayama to Kurashiki 😆But we did the other way round as we styaed in Kurashiki.
One of the must-visit places in Okayama is
Okayama Korakuen
, a three-star Michelin traditional garden. It has long been considered one of the top 3 gardens in Japan, and is a designated Historical and Cultural Heritage site. The garden has been beautifully taken care of, with traditional teahouses and even ponds filled with Japanese carp.
Okayama Castle
is located nearby. It it "known as "crow castle" due to its black exterior, was built in 1597 in the style of the Azuchi-Momoyama Period." You can enter the castle for free, and view some of the history and exhibits.
As we were craving
wagyu beef
, we ate at
Nikushoumatsuya
, where you can grill the beef at your table. The beef set also came with kimchi soup, which is surprisingly good!
Food We Ate:
• Wagyu Beef @ Nikushoumatsuya 肉匠松屋
Place to Visit:
• Okayama Korakuen 岡山後楽園
• Okayama Castle 岡山城
Day 8: Travel to Tokyo
Accommodation: Hotel Sunroute Higashi Shinjuku
We spent majority of Day 9 traveling from Kurashiki to Tokyo, approximately 5 hours in total by Shinkansen. We bought
ekiben (station bento)
from Kurashiki station to keep us full for the journey. By the time we arrived in Shinjuku, it was already close to dinner time. We had a simple tendon meal at
Tendon Tenya
(I'm a huge fan of their tendons and the sauce!) and had
souffle pancakes
for dessert. The rest of the night was spent walking along the streets of Shinjuku and just taking in the hustle and bustle of the city.
Food to Eat:
• Tendon Tenya (they have multiple outlets)
• Souffle Pancake @ Original Pancake House Shinjuku
Day 9: Day trip to Hakone from Tokyo

If you're looking for a day trip from Tokyo, one of a popular destination is Hakone. It is famous for its views (you can see Mt Fuji on a good day!) and hot springs. You can get there by train and take the bus and railway to get there. It is usually much more convenient to get to Hakone, but due to some damages from natural disaster at the time we visited, the route was longer than usual. In addition, we visited on a weekend, so it was pretty packed. Regardless, I don't regret visiting and it was one of the highlights from our whole trip.

At Hakone, we queued to take a picture at the popular spot - the Torii Gate at Hakone Shrine. Super long queue, but it's worth the shot!


We then took the
Hakone Sight Seeing Cruise
that ferries visitors along
Lake Ashi
. We were lucky enough to catch a clear view of Mt Fuji from the cruise (it looked majestic! 🗻)
The view of Mt Fuji from the Sightseeing Cruise. It is much clearer in real life!
It was getting pretty late, so we took the
Hakone Tozan Cable Car
to head back towards the Hakone-Yumoto Station. We couldn't visit the Owakudani, a volcanic valley, which is actually one of the stops of the cable car as it was closed for safety. But we did manage to view it from the cable car!
The sun had set by the time we reached back to Tokyo. We had
Shake Shack
for dinner as the queue for Shake Shack is too long in Singapore. 😋🍔 We chanced upon this waffle shop that also sells ice cream with 70% cocoa. A sweet finish to a tiring but fulfilling day.
Food We Ate:
• Yaki Pancake & Lunch @ Ashinokochaya あしのこ茶屋
• Burgers @ Shake Shack Shinjuku
• 70% Cocoa Ice Cream & Waffles @ Mr.Waffle

Things to Do:
• Hakone Shrine and Torii Gate
• Hakone Sight Seeing Cruise (view Mt Fuji on a clear day!)
• Hakone Tozan Cable Car (view Mt Fuji on a clear day!)
Day 10: Tsukiji Outer Market & More
On our second last day in Japan, we had breakfast at the
Tsukiji Outer Market
. Tsukiji Outer Market is packed with many shops/eateries and is located near the site of the former Tsukiji Wholesale Market. From morning to noon, the place is filled with people hustling to get fresh seafood. Some of the food we ate include grilled unagi (eel), ichigo daifuku (mochi with strawberry) and not forgetting the highlight - fresh Kaisen don (a bowl of sashimi on top of a bed of rice).
After eating a variety of food at the market, we helped our tummies to digest by shopping at
Don Quijote (Donki)
. There's simply so much to see and buy at Donki, and the good news is tourists get tax rebate for every 5000 yen spent!
One of the places I really wanted to visit on this trip is the
Starbucks Reserve Roastery
, and I'm so glad we did! The space is huge and there's so much to see, eat, and drink.
"The massive space houses the roasting factory on the fourth floor, with each floor below devoted to a different type of Starbucks hangout. The first floor is a bakery and café; the second floor is a Teavana tea room; and the third floor is a Arriviamo cocktail bar. The fourth floor factory also has a lounge area and workshop space." - Source
After feasting for almost the whole day, we shopped at
Shinjuku
. Jon actually managed to find shoes in his size (US 12) at a plus-sized store! It's surprising because most stores in Japan don't carry such large sizes. We ended the night with
affordable
soba
from
Nadai Fujisoba (名代富士そば)
.
Food We Ate:
• Ichigo Dango @ Tsukiji Soratsuki
• Kaisen Don & other seafood/sushi @ Tsukiji Kanno つきじ かんの
• Starbucks Reserve Roastery
Meguro
• Soba/Udon @ Nadai Fujisoba 名代富士そば
Day 11: Last day in Tokyo

Our last day in Tokyo was pretty chill. After checking out from our hotel, we stored our luggages in the lockers at Shinjuku station as we didn't want to be dragging them around while we did some last-minute shopping.


Before long, we collected our luggages and made our way to Haneda International Airport and took our flight back home.

Overall, it was a tiring but fun trip, with sooooooo much eating. Looking back at the videos we took, it seems like we spent most of our trip eating 😂Japan simply has so much good food, it's hard to resist! Arigatou, Japan!


Food We Ate:
• Coffee @ Blue Bottle Coffee
• Truffle Risotto @ PAPAS CAFÉ